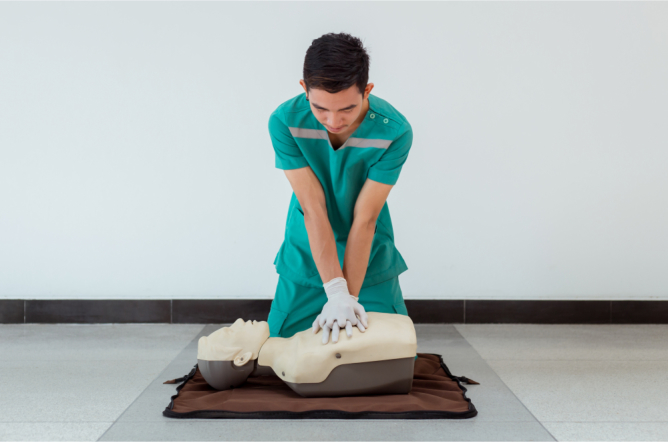 In the fast-paced world of health care, being prepared for emergencies is paramount. As an aspiring nursing professional or medical assistant, understanding the significance of CPR (Cardiopulmonary Resuscitation) training is crucial.
Thus, we emphasize the vital role that CPR plays in saving lives and ensuring the well-being of patients:
Immediate Response

In critical situations, every second counts. CPR knowledge enables you to respond promptly, potentially preventing irreversible damage and increasing the chances of a positive outcome.

Empowering Confidence

Being equipped with CPR skills boosts your confidence in handling emergencies. This confidence is invaluable in the high-pressure environment of healthcare.

Professional Requirement

Many healthcare facilities require CPR certification as a prerequisite for employment. Completing CNA school with us ensures you meet this essential criterion.
At Serenity Nurse Aide Academy, we offer top-tier healthcare training programs designed to equip you with the skills and knowledge needed to excel in your career. Our curriculum covers a wide range of critical topics, with a special emphasis on CPR training.
We understand that each student's learning needs may differ. Our experienced instructors ensure that the training is adapted to suit your pace and learning style. This personalized approach sets us apart in the field of CNA training in Charlotte, North Carolina.
By enrolling in our CNA training program, you're not only gaining essential skills for your career but also becoming a crucial link in the healthcare chain. Your ability to administer CPR can mean the difference between life and death.
Don't miss out on this opportunity to enhance your skills and make a real impact in the healthcare industry. Contact us today to learn more about our medical training programs in North Carolina.
Disclaimer
Blogs, content and other media uploaded online are for informational purposes only. Contents on this website should not be considered medical advice. Readers are strongly encouraged to visit their physician for health-related issues.